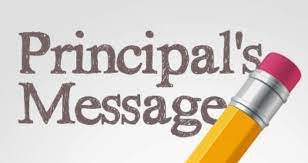 Nov 3, 2023 
Dear Parents/Guardians,
The school year is rushing by very quickly. Thanksgiving is around the corner and before you know, it's the Christmas holidays. As an early reminder, our Winter Celebration program will be on December 12. All our students will be participating; therefore, we are planning to see all our parents at that program.
It was a positive sign to see so many parents at the school for the parent/teacher conferences. It is vital that parents/guardians are partners with the teacher in the education of our students. As part of the parent/teacher conference, each parent was given a copy of their child's Measures of Academic Progress or MAP. Parents/Guardians were able to track the academic growth of their children.
As you know, Friday is our dress down day. It gives our students an opportunity to wear clothes other than their uniforms. However, I have noticed outfits that are not appropriate for the school environment. Therefore, the attire for our Friday dress down days will be jeans and tee shirts. Further, there is to be no inappropriate writings or pictures on the tee shirts. Additionally, the shoes can be sneakers or any other type of closed in shoes. Parents/Guardians, I solicit your cooperation in this matter.
Parents, I need to remind you that breakfast starts at 8:00. However, our breakfast meal begins at 7:30 and ends at 8:00. If your child is to eat breakfast at school, your child needs to be here to eat and finish his/her breakfast by 8:00.
Parents/Guardians remind your child of 1 Corinthians 9:2  
"No eye has seen, no ear has heard, and no mind has imagined what God has prepared for those who love him." Under God's directions, your child will be able to accomplish anything.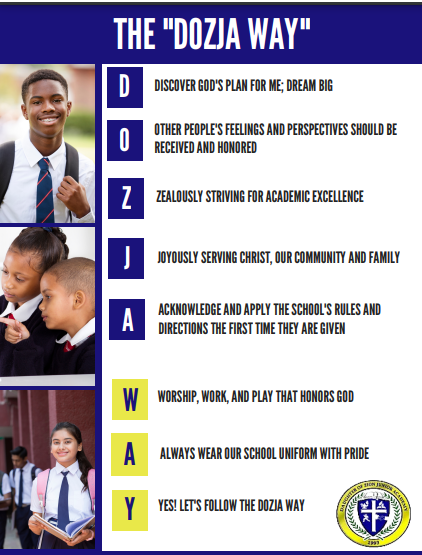 Conference School Calander
Southeastern Conference 2023-2024 School Year Calander 
Dozja Handbook
Breakfast & Lunch Menu